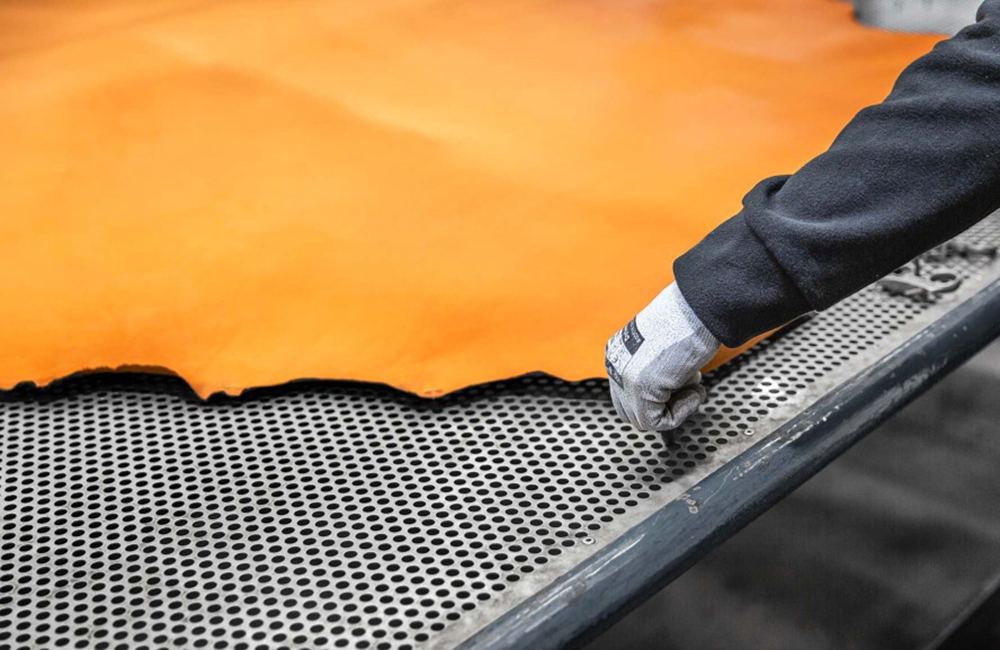 Manufacturing the world's lowest carbon leather
Scottish Leather Group is the UK's largest leather manufacturer supplying a wide range of industries.  Working with many of the world's leading brands, SLG contribute to Scotland's reputation for world-class innovation and manufacturing. As well as this passion for high-quality products, their commitment to sustainability and the environment has led to the creation of an almost entirely closed loop process.
Circular innovation – The SLG team have developed a circular manufacturing process and by 2025, the aim to have a 100% closed-loop process.
Waste as a resource, reclaiming energy – Through their patented Thermal Energy Plant, process waste is turned into heat that powers their facilities.
Re-using water – Through an ultrafiltration plant, liquid waste from the tanneries can be continuously filtered and re-used.
Sourcing locally – Raw hides are sourced locally from responsible suppliers
Scottish Leather Group place sustainability at the heart of everything they do and as a Circular Glasgow Ambassador, are committed to championing Glasgow's place at the forefront of the circular economy. To date, SLG have already managed to reduce the amount of waste sent to landfill by 63%.
Their circular manufacturing process is part of their commitment to achieve the UN Sustainable Development Goal 9 for Industry, Innovation and Infrastructure.
Thermal Energy Plant – One of the company's most innovative features is the self-funded Thermal Energy Plant (TEP), opened in 2009. Solid waste, created from the leather-making process, is sent to the TEP and converted into oil, biofuel and ash (to be sold or used as fuel for electricity) and gas (converted into heat which is pumped back into the tannery).
Ultrafiltration Plant – Water is sourced primarily from the company's own loch and once used in the leather-making process, the ultrafiltration plant allows 40% of water to be recycled back into the production process. Any water that cannot be re-used is treated by Scottish Water before re-joining the River Clyde as clean water.
Sourcing locally – Scottish Leather Group source 98% of raw hides from UK and Irish sources to reduce their carbon footprint and associated travel costs. The hides are sourced responsibly, ensuring accountability and transparency with suppliers.