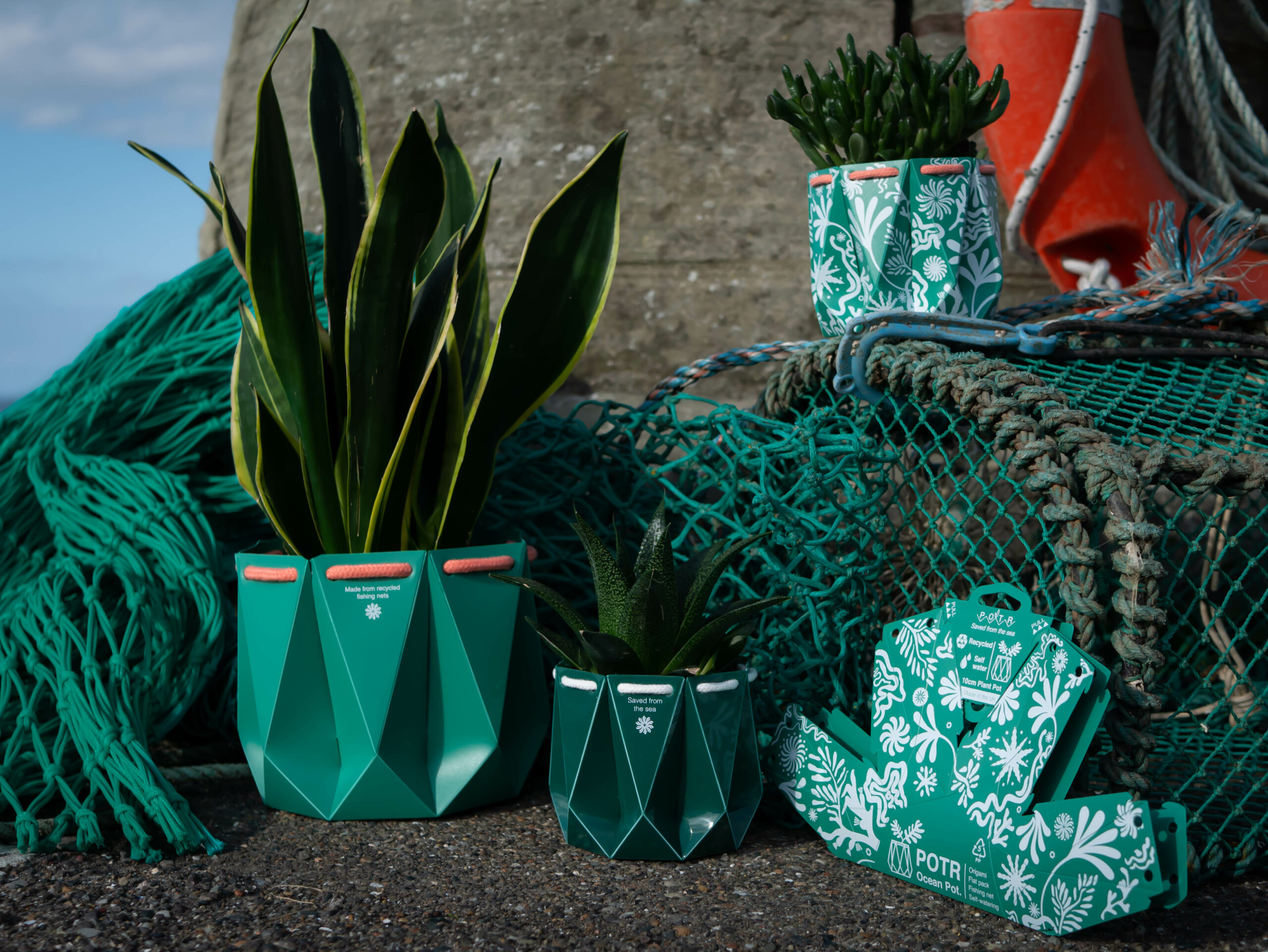 Transforming old fishing nets into flat packed, self-watering plant pots
POTR is a Glasgow-based brand who is using recycled fishing nets to revolutionise the humble plant pot. Their ground up approach to sustainable design and materials has resulted in a unique, flat packed planter with a carbon footprint 100 times lower than competitor products.
Rethink resources: POTR have found an innovative way to reduce ocean waste whilst creating a new product that is more sustainable than competitors and designed with the consumer in mind.
POTR take a holistic approach to sustainability, taking into account the whole product lifecycle. Their approach can be broken down into four categories; design, materials, manufacture and end of life.
Sustainability starts with design. POTR Pots have a CO2 footprint roughly one hundred times smaller than ceramic or concrete plant pots which is in large part due to their flat pack design. The weight and volume saved by shipping flat pack equates to a large saving in emissions. Customers never miss a delivery as the planters are sent in an envelope and posted directly through their letterbox. Furthermore, the architectural, origami design permits more with less. Once folded, the 0.7mm sheet transforms from a flexible substrate to a rigid structure, enabling a 98.4% reduction in material compared to traditional planters.
Recycled fishing nets (made of polypropylene) are perfectly suited for POTR's origami plant pots and can be recycled countless times without impact to its functionality. Recycled PP is robust meaning it will last a lifetime; unlike traditional plant pots, POTR Pots will not break if they are dropped or knocked. 10% of POTR's profits from the sea plastic range is donated back to the ocean clean up charity Ghost Diving UK who retrieve discarded fishing nets from the sea.
What's more, POTR Pots make plant care simple with the in-built self watering feature. The recycled cotton cord doubles as a wicking straw, allowing a plant to self-regulate its water intake. This helps to take the guess work out of plant care and reduce plant waste.
The production, assembly and fulfilment of POTR Pots is carried out in the UK ensuring product mileage is kept to a minimum. POTR Pots are simple to disassemble and their component parts are fully recyclable at the end of life. POTR Pots are clearly marked with the appropriate recycling symbols making it simple for customers to know how and where to recycle the material (all components can be recycled in standard household recycling bins in the UK).