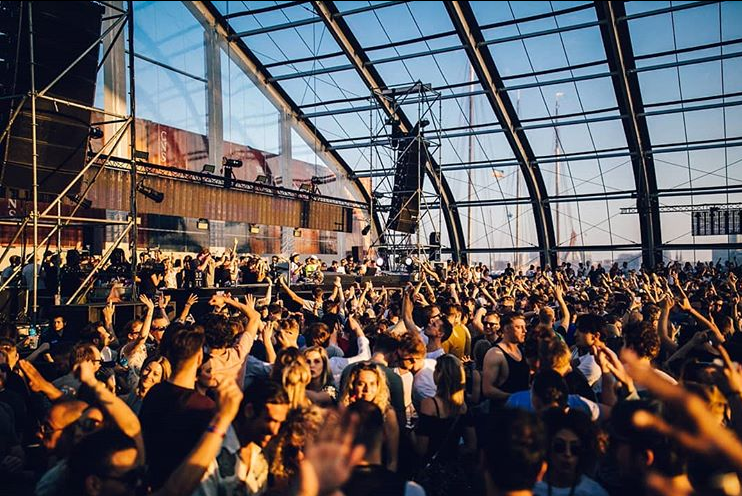 The world's first circular music festival
DGTL is the world's first electronic music and art festival that is pursuing full circularity.
Rethink the business model: As a pioneer in the field of innovation and sustainability, DGTL has created a circular blueprint, challenging the traditional linear 'take-make-waste' mentality of delivering a large-scale sustainable event.
With over 65 artists spread out over seven stages, DGTL implemented a sustainability programme aimed to creating closed loop cycles for several on-site systems including energy, resources, water, and sanitation.  Other areas where the team have piloted circular initiatives include food, commodities (waste) and mobility.  Here are just some of the ways they are working towards becoming the first fully circular music festival.
Material Flow Analysis: In 2017 DGTL conducted a Material Flow Analysis, in which they identified and calculated all the resource flows of materials, energy, and water that enter and exit the festival. This provided the festival's sustainability managers with a 'clear snapshot of the event's metabolism,' as they called it, from which they were able to base future changes to their input-output model.
Circular Food Court: After the introduction of a meat-free food court in 2016, DGTL then moved towards a menu consisting of rescued food and imperfect products.  Evolving plans include the launch of a fully plant based vegan menu at future events.  After the Festival, all waste food and discarded biodegradable packaging was transformed into compost and used by urban farmers to grow local, seasonal produce for future events.
Energy Neutral: DGTL's ambition is for the Festival's energy system to be completely energy-neutral and emission-free during show days.  Parting with traditional diesel generators, the plan is to generate all future energy from entirely renewable resources i.e. sun, wind or other sustainable sources.  The City of Amsterdam has also invested in DGTL's event facilities; constructing additional power boxes with increased access to the main power grid. As a result, all energy-demanding parts of the festival, such as bars, lighting and the food court, can simply use the sockets on site for their power supply.
Collaboration with the City of Amsterdam: It's entirely feasible to view a festival as a temporary miniature version of an urban community.  For this reason, DGTL sees its festival terrain as a living lab for circular innovation in neighbourhoods and cities, creating a circular blueprint that can be applied to both a festival and a city. By entering into partnerships with, among others, the City of Amsterdam and the Central Government, the festival takes on urban challenges on themes such as the energy transition and a new more sustainable form of sanitation.