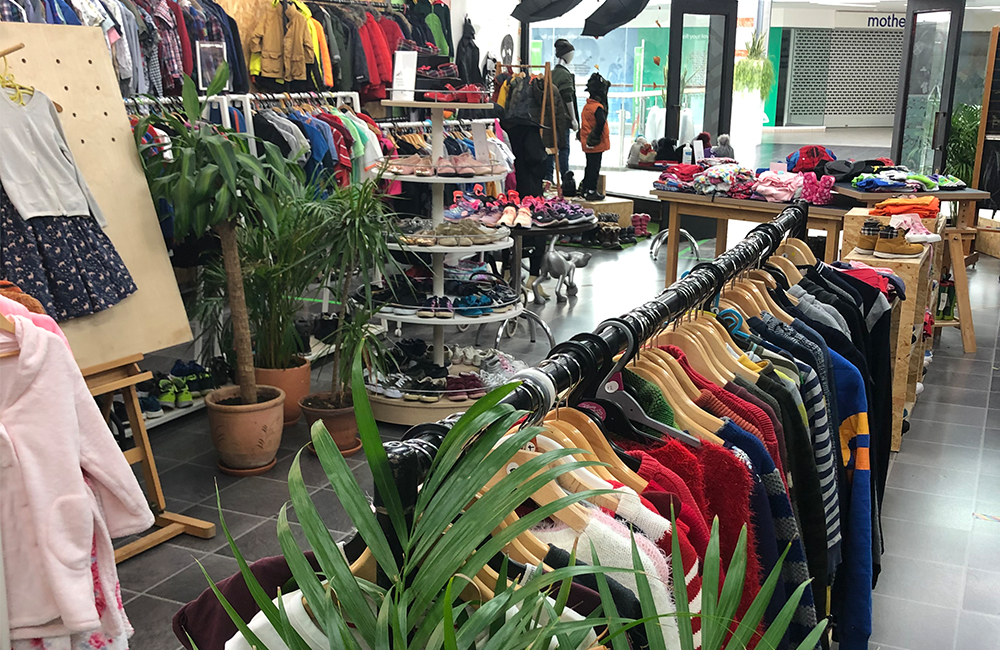 Second hand and pre-loved children's clothing
Dressing your children doesn't have to cost the earth. ApparelXchange helps families turn paths of damage and waste into circles of sustainability and care. They empower parents and carers to enjoy dressing their children in earth-friendly style. When children inevitably grow out of their clothes, they are taken and redirected to repair (if necessary), and then reused through ApparelXchange's city centre shop, virtual shopping experience, and in donations to those in particular need.
Rethinking the business model, preventing waste: selling second-hand clothing which funds free clothing packages for families who need extra support, exploring a membership model with a fixed annual fee granting access to a certain number of garments a year.
Embracing digital technology: online store supporting physical store with sales of second hand clothing
ApparelXchange accepts donations of unwanted children's clothing, footwear and accessories. These items can be sold through their shop or online and this income helps to fund their free clothing packages for families in the community who need some extra support. In the summer of 2020, they worked with Glasgow City Parents Group to provide school uniform packages to families in Glasgow who were experiencing real need and hardship. Over 3000 pre-loved garments were gifted to families across the city.
With a business model centred on second hand and pre-loved clothing, ApparelXchange is saving huge amounts of good-quality clothing from heading to landfill through organised re-use.  Another area of focus is educating their customers on smart consumer choices, fashionability, environmental impacts of clothing supply chains, repair and reuse skills. Their Volunteer and Schools Programmes help adults and children to advance their confidence and awareness whilst being economically savvy.
They are also working on a membership model. Families will pay a fixed annual subscription (tiered options), to 'access' a fixed number of garments per year. Garments can be swapped out as needs change, staying within the fixed number. Returned garments are reabsorbed into this model, repaired, reused and resold.
With the fashion industry recognised as one of the most ecologically damaging industries in the world, ApparelXchange are fired up to work at a local level to make low-cost, good-quality, pre-loved clothing a pleasure to shop for and wear.