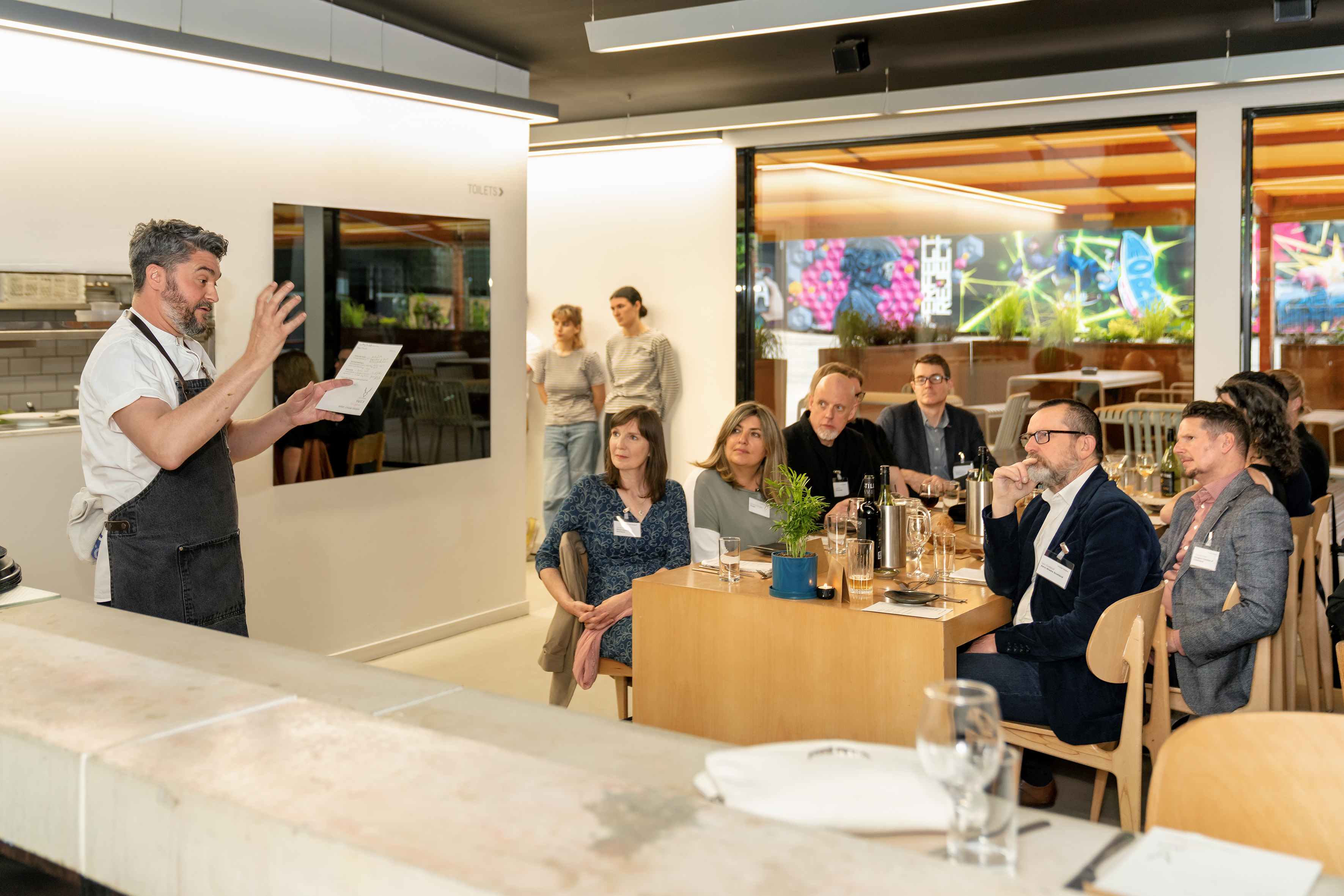 The inaugural Circular Supper Club, featuring locally sourced vegetarian and vegan produce, turned out to be a luscious and inspirational prelude before the Congress of Business (COB) the next day.
Circular Glasgow, in partnership with the iconic SWG3 venue, created an intimate circular-themed event which tantalised the senses and was greatly appreciated by those lucky enough to attend.
On arrival, guests sampled and enjoyed Acid Bar cocktails, including the locally produced Panther M*lk, the first oat milk vegan cream liqueur cocktail brand, or an espresso martini.
A fabulous vegan meal was sourced and cooked by Craig Crozier. Having trained in Michelin-starred restaurants around the world, Craig established his acclaimed business, Fallachan, in Glasgow in 2012 to offer exceptional dining experiences. His food wowed the Supper Club.
The Two Raccoons provided delicious fruit wines rescued from surplus fruits across Scotland, while the tables were decorated with beautiful Ocean Pots, salvaged from fishing ropes from the West Coast of Scotland. Cottonrake Bakery, based opposite SWG3, supplied delicious chocolate tarts.
The following day, Glasgow Chamber of Commerce, supported by the Scottish Government, the British Chambers of Commerce, the University of Glasgow and First Bus, welcomed a wide range of speakers to the inaugural Congress of Business (COB) at The Engine Works.
Thomasina Miers OBE, chef, writer, television presenter, and Co-Founder of the Wahaca chain of Mexican street food restaurants, was a keynote speaker for COB. But Supper Club guests met her in this more informal setting at the dinner.
Thomasina cares deeply about where our food comes from, how it grows, and supports the soil, biodiversity and the planet. She believes that everyone should have access to good ingredients, and she shared her passion for regenerative food systems.
Her advice to the Supper Club guests was to cook more vegetables, preferably bought from farmers' markets and independent shops.
"Delight in them, cook them deliciously and feel their life force," she encouraged.
She also recommended doing one thing in your community outside of your work that gives back.
"For me, it was Chefs in Schools to begin with, but next might well be the massive building development on my doorstep. It could be anything, no matter how small. Go to a farmers' market once a fortnight, befriend a food producer, campaign for better food in your kids' school or feed a granny.
"Our small acts of change have a huge overall impact and give us more hope and agency which we need more than ever," she said.
Overall, it was an outstanding and special event which Thomasina enjoyed.
"Outstanding, all of it, I loved being part of such an important event and meeting such a dazzling array of people. I was beautifully looked after and want to come back to Glasgow!"
Others shared her enjoyment.
"Brilliant evening. Beautifully and naturally delivered. Most enjoyable and productive," said Dr Roddy Yarr, of Strathclyde University, while Nick Addington, Chief Executive of William Grant Foundation, said: "It was a fun and worthwhile evening in a wonderful venue – and with wonderful food."
Jamie Cook, Head of RSA Scotland, said: "I was honoured and excited to be part of the gathering – what an inspiring, inspired group it was. Congratulations for bringing that energy and environment together, that doesn't happen by accident. Count me in for anything I can do to support moving forward."
Dana McLeod, Director of Arts, Community, Diversity & Inclusion, Creative Scotland, said: "What an incredible and meaningful two days of events, both felt very important, and you've really catalysed something with COB. Well done!"
Circular Glasgow is planning more Circular Supper Club events, so don't miss out on a fabulous evening! Please contact Circular Glasgow Lead, Lisa Torrance at lisa.torrance@glasgowchamberofcommerce to join the Circular Glasgow Network and keep up to date with the latest news.