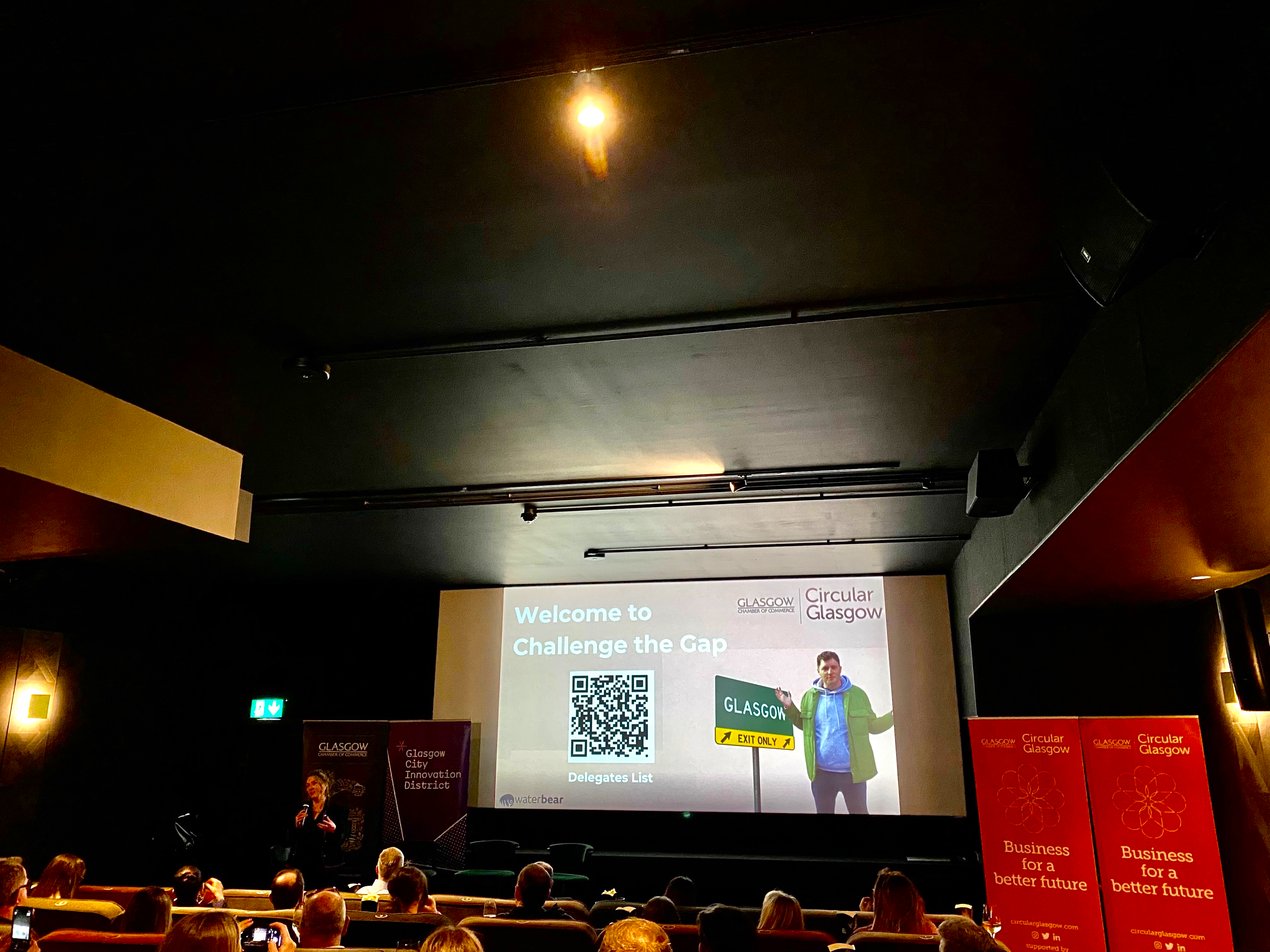 In February, we premiered our 'Challenge the Gap' movie in partnership with Glasgow Chamber of Commerce and WaterBear. It was great to get everyone 'back in the room' and chat with each other about the power of circularity! 
Scotland is a major leader in the global economy, and COP26 helped put Glasgow on the world map in terms of sustainability. Glasgow Chamber of Commerce has been leading the way with our Circular Glasgow initiatives, and is globally recognised for our efforts. But if we are to reach net zero, we need to shift in mindset in order to enable all businesses to adopt circular practices. To help stimulate this we created an entertaining movie – an illuminating snapshot of what's already happening in Glasgow with the hope of offering inspiration on how businesses can move to more circular models.  
The great thinker Krista Tippett describes hope as a muscule. 'It's not wishful thinking, it's not wishful thinking, and it's not idealism. It's not even a belief that everything that everything will turn out okay. It's an imaginative leap, which is what I've seen in people'
In the film, Glaswegian comedian, Paul Black embarked on an investigative journey to interview locals and meet innovative businesses who are leading the way in circularity. The first stop on the journey was Dear Green Coffee Roasters, a Glasgow-based roastery that continues to adopt environmentally conscious practices and sourcing. Paul also met with Scottish Leather Group – the world's most sustainable leather company that has built their business model around waste-free agriculture. Paul also ventured to Glasgow's Fish Plaice for a quick visit to learn more about their sustainable, high-quality produce. And finally, he met the CEO of CuanTec, Craig Sterling, who explained the company's mission to reduce single use plastics and how they are trying to help close the circularity gap. We would like to thank all businesses for taking part in our movie, and for showing how they have been continuously innovating by using circular economy principles to inspire wider business audiences and consumers.
We would also like to thank our partners, Glasgow City Innovation District, Zero Waste Scotland, and of course, our generous panel for joining us at the screening:
Alisdair Gunn (Project Director, Glasgow City Innovation District)
Fiona Ellis (Business Support Manager, DF Concerts / Circular Glasgow Network Ambassador)
Professor Iain Black (Sustainable Consumption expert, University of Strathclyde)
Moderator: Alison McRae (Senior Director, Glasgow Chamber of Commerce)
We would also like to say many thanks to our host and Circular Lead, Lisa Torrance, for bringing us all together.
Our Challenge the Gap short film is a free asset for you all to watch and share. If you haven't seen it already, please do and let us know your thoughts. You can sign up to watch via WaterBear, a free platform – a 'Netflix for nature'. Please also join The Circular Glasgow Network. We'll be doing lots more events in the coming months to continue to learn and inspire one another, maintain momentum, and as our Senior Director, Alison McRae proclaims, generate hope!