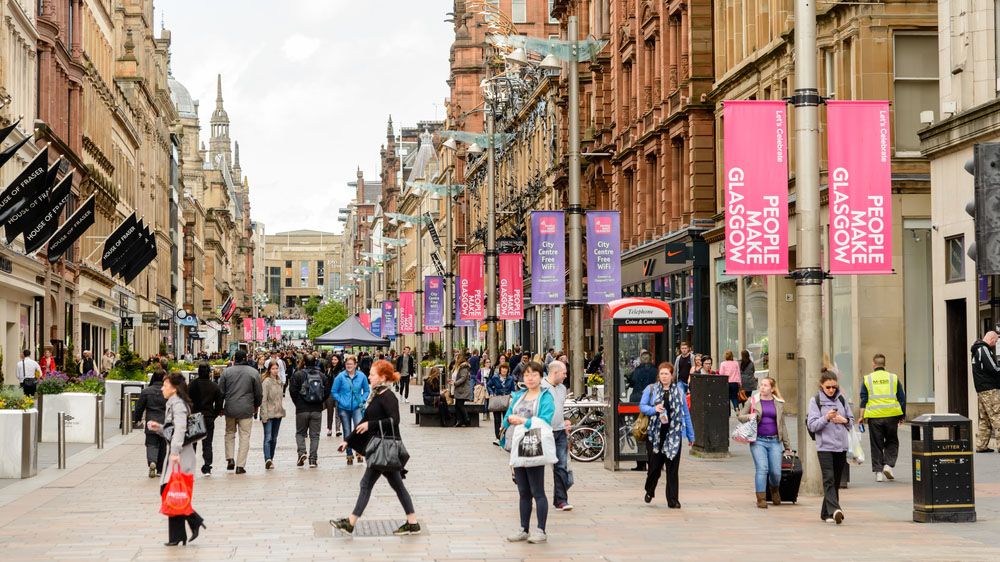 I've been fortunate to have seen the evolution of work on the circular economy here in Glasgow from an exciting idea to a commercial reality. I've been especially privileged to have engaged with the business community through the Glasgow Chamber of Commerce and proud to be one of its circular ambassadors. The sheer range, diversity and inventiveness of the work which local companies are pioneering in this area offers a glimpse of a future economic model being created right now. My colleagues in the Council have recently published a Circular Economy Routemap for the city, which will provide a supportive policy context to this work. At the same time, I never tire of saying to companies that their green business practices should be the basis of sustainable profits. The circular economy allows us all to see exactly what that means and the strength and quality of the connections we have across sectors in our city will be a key means of generating success.
The next UN climate change conference, called COP26, is coming to Glasgow on 1-12 November 2021. This is an incredible opportunity to add momentum to our current ambitions and encourage us all to try harder still in pursuit of them. I've been linking with the Chamber to encourage businesses to harness this opportunity and use it to showcase the best of Glaswegian goods, services and ideas to the world; to generate new trade and new city relationships; and in particular to make even greater progress on the circular economy. The spotlight of the world is turning upon Glasgow and COP26 represents a moment when city business can do what they do best: lead the world.
I've been struck by how many cities around the world have talked about a green recovery from Covid-19 which should have the principles of the circular economy at its heart. Some of these cities are looking at such work for the first time and will need support. Others have extensive experience and can teach us more about this agenda. All of them are our peers and join with Glasgow in a world where innovation and creativity are distinctly urban qualities. These are the things which generated the first Industrial Revolution right here in Glasgow, one that transformed coal and iron ore into the motive force of a whole new world. Now, once more, Glasgow is generating another transformation – one that is leading to a cleaner, greener economy and society and one that has Glaswegian businesses at the forefront.
One thing which cannot go unnoticed in all this is how networking and forging new relationships with other cities and city networks has been made a whole lot easier because we are doing many more things virtually rather than in person. The downsides of this to the economy are only too obvious and profound, but for the time being opportunities are emerging for Glaswegian businesses to seek out these online connections to further their goals. There is never going to be a better time to explore how to use digital platforms to promote local products, to trade with the world and to reduce carbon emissions from travel. The Chamber of Commerce has been at the forefront of this approach and I've had the pleasure of talking with Chinese and Italian cities about COP26 in recent virtual trade delegations from Glasgow.
The city's declaration of a climate emergency was followed by a commitment to achieve carbon neutrality by the 2030. That's an incredibly challenging target and will only be delivered by drawing on the city's strong ethos and practices of partnership working. I can't help paraphrasing the famous statement which JFK made about the moon programme – we commit to doing this thing precisely because it is difficult. And we only have to the end of the decade to make it happen. The circular economy can make a huge contribution to this because we know it is one of the most effective forms of intervention that can reduce carbon emissions – and even remove emissions – whilst maintaining a healthy and inclusive economy. This is a pretty impressive equation and one which we're on the road to getting right. That road leads to COP26 and it reaches further still into new chapters of our Glaswegian story – to a thriving business community and a sustainable city forged together in the crucible of a circular revolution.
Dr Duncan Booker is COP26 Stakeholder Manager for Glasgow City Council. He has worked on policy development in local government for more than twenty years in a range of areas and has been connected with Glasgow's journey to a more circular economy since its inception. He drafted the Council's report and recommendations on the climate emergency in 2019, which led to the city committing to achieve carbon neutrality by the year 2030.
Duncan is currently working on arrangements for Glasgow to welcome the world to COP26 in November 2021. He is a graduate of the universities of Oxford and Glasgow.