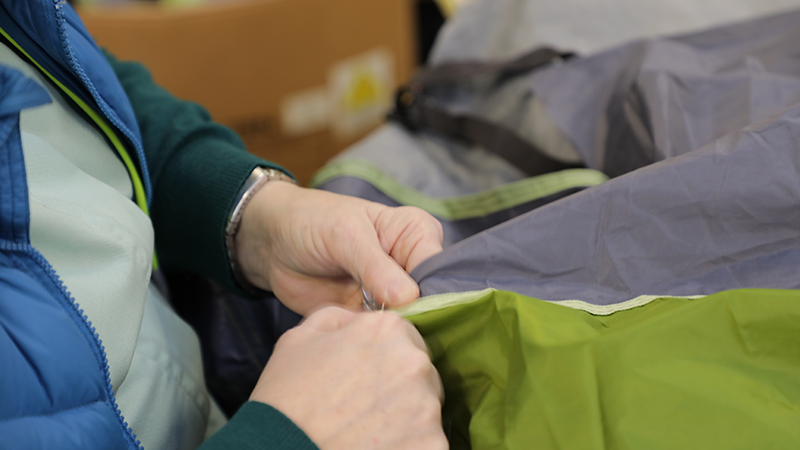 Vango's Spirit of Sustainability
Vango have been working sustainably for over a decade through their Spares and Repairs Service refurbishing outdoor gear to give it a second life of adventure.  They have now taken their sustainability plans further, creating the Earth Collection of tents, rucksacks, sleeping bags and furniture, made from recycled single-use plastic bottles.
Rethink resources: Finding an alternative use for single-use plastic 'waste' to make the Earth Collection
Collaboration: Working with local charities and upcycling organisations to reduce its environmental footprint whilst supporting local communities
Repair and refurbishment 
With Vango's commitment to reducing landfill waste and using the specialist service of their Camping Spares and Repairs team, the team refurbish outdoor gear to give it a second life of adventure.  Should any item be beyond repair, they strip the component parts to be used in future repairs and upcycle as much of the remaining fabrics as possible, further reducing the waste headed to landfill.  This includes charitable donations and supporting upcycling organisations, such as Sheltersuit.
Sheltersuit upcycle end of life tent and sleeping bag fabrics and fillings to create Sheltersuits and Shelterbags for those effected by homelessness.
Sheltersuit Foundation has upcycled over 21,000KG of materials to date and Vango are extremely proud to be able to contribute to increase this number.
As well as upcycling, Vango has introduced the use of recycled single-use plastic into its production process to create the Vango Earth Collection which brings together a range of tents, sleeping bags, rucksacks and furniture which share one common material: environmentally friendly fabric crafted from recycled single use plastics.
The Earth Collection
Within the organisation's 2021 range, the Earth Collection will recycle the plastic waste equivalent to 1,861,134 plastic bottles.  As they drive this sustainable practice, they can predict this growing to the equivalent of 8,250,000 plastic bottles in 2022.
To view all of Vango's sustainability practices, click here to see their Sustainability Poster series which highlights their various sustainable efforts, as well as giving you an insight into Vango's purpose, vision and values and sustainable business practices.