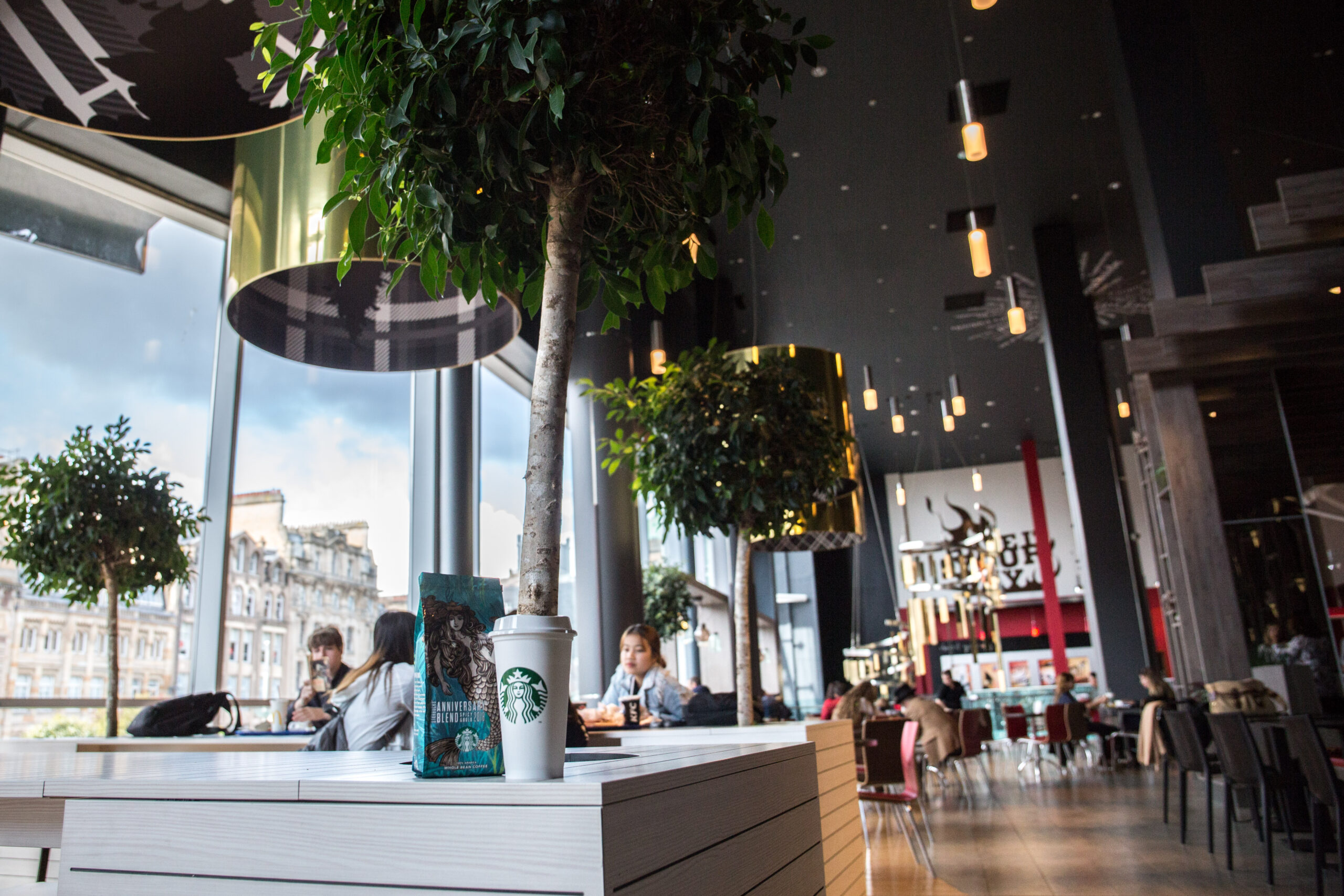 Creating circularity within a shopping centre
St. Enoch Centre is a leading Glasgow shopping centre with over 90 retailers.  The centre has recently adopted a number of circular initiatives including capturing waste coffee grounds to enrich the compost used for the centre's indoor plants; launching The Pram Project, rehoming refurbished prams to those in need and partnering with Apparel Xchange, retailing pre-loved kids cloths and school uniforms.
Collaborate, rethink resources – savings are made on coffee which would normally be sent to be recycled and is now instead being re-used within the shopping centres' plants. Prams are also diverted from landfill instead repairing and sending to families in need.  Carbon emissions are saved through the re-use, resale and recycling of school uniforms
Coffee initiative:  Coffee grounds, which were previously seen as waste, are now being collected from a number of retailers within St Enoch Centre by landscape specialists, GP Plantscapes, who use the waste grounds to enrich the compost that is then used within the plants throughout the mall. The concept has seen retailers brought together in a bid to embrace the circular economy and already Starbucks, Costa, Muffin Break, Di Maggio's, McDonald's, KFC, Pizza Hut, Aulds and Burger King have signed up to the initiative which will reduce the amount of waste from the centre.
The Pram Project:  Prams abandoned at St. Enoch Centre are given a new lease of life to help refugees and disadvantaged families across Glasgow.  The shopping centre's collaboration with the city's Repair Cafe launched summer of 2019, when the centre noticed a number of prams left on the premises and in the surrounding area.  The majority of these abandoned prams were in a working condition but in need of restoration.  The team purchased cleaning products to sterilise and transform the prams, before donating them to charities.
Apparel Xchange:  A social enterprise dedicated to the reuse of clothing, footwear and accessories.  Low-cost school uniforms have been made available for families, after Apparel Xchange CIC, set up a pop-up shop in the St. Enoch Centre.  The store, which opened in 2019, offers a range of school uniforms for primary aged children as well as jackets and sportswear and aims to reduce pollution and carbon emissions associated with the textiles industry.