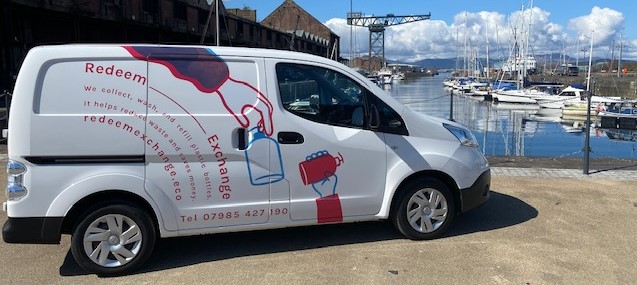 Reducing single-use plastic waste increased by COVID-19
The Redeem Exchange team came up with a simple yet innovative idea to reduce plastic waste in the shape and form of empty hand sanitiser bottles.  They offer a collect, wash, refill and return service for empty bottles to help save the environment whilst keeping those around us safe.
Rethink resources: plastic is saved from being sent to landfill through a collection and refill service
Redeem Exchange launched because of COVID-19, and the increased number of (very much needed) plastic bottles in circulation and is an effective example of a circular economy.  They deliver a collect, wash, refill and return service for any plastic hand sanitiser bottle in circulation.  These bottles are usually thrown away, and very few make it to be recycled.  Redeem Exchange realised that they could reuse bottles and keep them in circulation longer, by simply relabelling and returning them to source.  They are also planning to introduce a coding system, to track and report how many times a bottle is reused – this has never been done before for plastic.
With support from Zero Waste Scotland and partnering with NHS NSS, Redeem Exchange has the capacity to run this programme across Scotland and beyond, and of course it works for any organisation, group, or event.  They get to know all of their customers incredibly well through this process, and as a non-profit social enterprise, they get to support local communities where it is needed.
On top of the environmental impact, they have a strong focus on social impact too.  Redeem Exchange will provide employment and training for people living in SIMD areas.  They have designed a Skills Exchange employability programme, giving individuals valuable skills and knowledge to reach their full potential.  This will help to reduce poverty and close skills gaps.  They also have a voluntary programme supporting those coming to the end of a life sentence within the prison service to support reintegration.
Redeem Exhange's aim is to open additional hubs as the business grows in partnership with other Social Enterprises, where this model can be replicated using the same values and beliefs.  As non-profit businesses, their focus is to ensure they are in touch with each local community and support the needs specific to each.