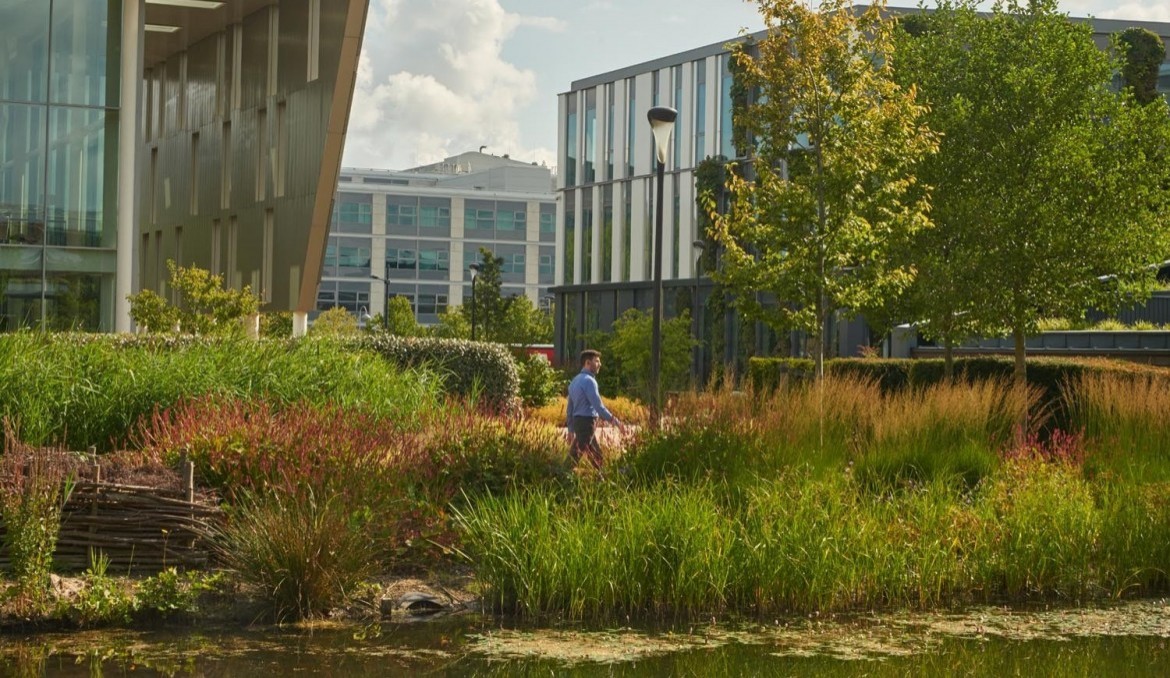 A working environment with people and the natural world at its core.
Park 20|20 is a business park in the Netherlands which combines innovation and sustainability in its design. Created by the Delta Development Group, the real estate developer wanted to express its commitment to sustainability by implementing a circular philosophy known as Cradle to Cradle® (C2C) into the construction project.
Design for the future: The buildings at Park 20|20 are designed to be easily dismantled so that when the buildings come to the end of their life, the materials can be used for something new, keeping them in circulation.
Rethink resources: By utilising waste, the recycled materials used to construct the buildings maximises the lifetime of the materials. Resources such as energy and water are kept in closed self-sustaining systems to ensure full circularity in all elements of the business park.
The ambitions motivating the creation of Park 20|20 were that they wanted to create a stimulating and colourful working environment that connects the employees to nature. Imbued with serenity, the site features flourishing plant life and a canal flowing through the centre of the park. The buildings are made from recycled materials, powered by renewable energy and recycled water. Read more below about specific circular and sustainable features of the business park.
Design for disassembly 
The Cradle to Cradle approach to the design of Park 20|20 is a philosophy that describes the infinite use of materials that are kept in circulation. Park 20|20 is a stellar example of this principle in practice. Important to differentiate between the use of recycled and recyclable materials, the building resources used for Park 20|20 were recycled because carbon emissions are produced in the creation of making new recyclable materials. Moreover, the structures have been put together in a way that makes them easily disassembled at the end of their lifespan. Rather than demolishing a building, this innovative design future-proofs the integrity of the building materials so that they can be reused later.
A natural environment
Other structural features include the lush vegetation spread all over the site and these plants provide natural insulation which improves the energy efficiency of the buildings. Moreover, the presence of such rich greenery provides a pleasing working environment and is said to improve overall well being and productivity of the resident employees. Atop the offices are solar panel roofs which supply cleaner renewable energy and means that the business park is powered on its own by a natural resource that cannot be depleted.
Centralized Water Infrastructure
It was important that water stewardship was implemented into Park 20|20.  All the buildings are connected to a centralised grey water purification system which means that water is kept in a closed system where it is cleaned and reused repeatedly. This also minimises the amount of wastewater and sewage discharge from the site.