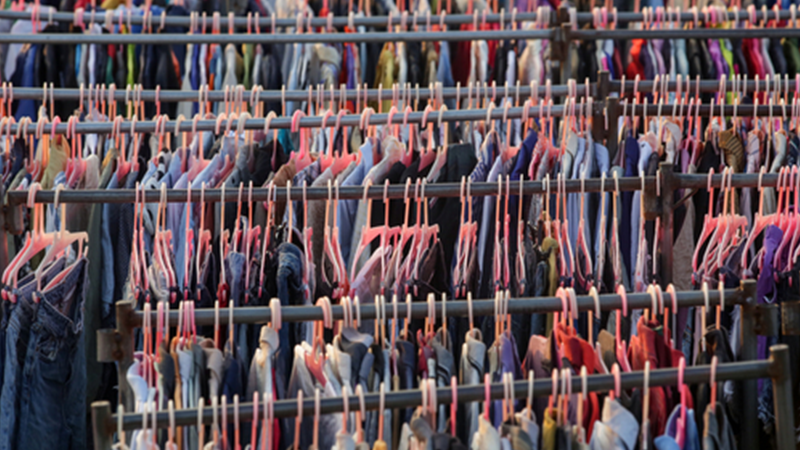 As part of our ongoing member and business guest blog series, ACS Clothing has written about the challenges facing the fashion industry and their views on how to drive an authentic circular approach.
---
The impact of the fashion industry in 2021
---
The environmental footprint of fashion is arguably the industry's best kept secret. Behind the latest trends and new collections is a resource-intensive process that is simply unsustainable.
Fast fashion has a lot to answer for. The term fast-fashion was coined by Zara in the late 1980's to describe clothing that is designed to have a short lifespan and fast turnover. Consumers loved it. Just as the demand for affordable new styles increased, so did supply. Brands went from designing 4 seasons to 52 seasons and until recent years, there was very little understanding on the environmental repercussions of this.
The rise in fast fashion undeniably resulted in the exploitation of global resources. We consume 400% more clothes than we did 20 years ago and on average, a garment is worn only 7x before it is disposed of! The growing need for textiles to be mass produced has led to the depletion of natural resources in the form of land, water and energy usage and has significantly contributed to the high levels of pollution on earth and in our oceans. The fast-fashion model is traditionally 'linear' as the clothing is used short-term and often destined for landfill thereafter.
---
Has lockdown been a wake up call?
---
In 2020, everything changed – the way we live, work, socialise, dress and to some extent, think. Amidst the uncertainty and increasing lockdown restrictions, brands and retailers had the time to realign their strategy to their vision and their priorities to their values.
A global refocus on shared issues has brought the environmental impact of the fashion industry to the forefront of both brands and consumers' minds. As consumers become increasingly aware of the impact and influence their purchasing habits have on wider society, there's been a growing interest in transparency across all areas of the supply chain, in terms of materials, working conditions and the environmental impact of textiles.
---
---
Pioneering the shift towards sustainable consumerism and the role of ACS
---
As consumers change the way they live and shop, brands and retailers are becoming attuned to the need for change. As a result, more and more retailers are beginning to introduce innovative and disruptive circular business models. A circular business model exists to keep textiles in circulation and design out waste. It's a closed-loop system where nothing goes to landfill and instead, items are reused, upcycled, or recycled at the end of life.
ACS Clothing, based locally in Eurocentral, is a company driving the change we need to see in the fashion industry. As Europe's largest rental and recommerce fulfilment centre, ACS power the waste reduction of textiles by partnering with brands to offer an innovative turnkey rental or resale solution that is both sustainable and scalable. This service is complete with order management, advanced RFID technology, eco-friendly ozone cleaning and sanitisation, expert textile care and repair, and more. It's an advanced clothing solution that retailers can introduce quickly and effectively. Amongst the array of brands in the ACS partner portfolio is Moss Bros., Slaters, Hirestreet, My Wardrobe HQ and Rotaro. The company prides itself in its inherently sustainable business processes as it proudly progresses the journey towards net-zero emissions.
---
---
This blog is Part 1 in a 3-part blog series written by ACS Clothing.
Read Part 2: The importance of transparency in a circular supply chain
Click here to find out more about ACS Clothing's commitment to a circular and sustainable future.