Glasgow Airport helps city-based upcycling initiative get creative with disused café furniture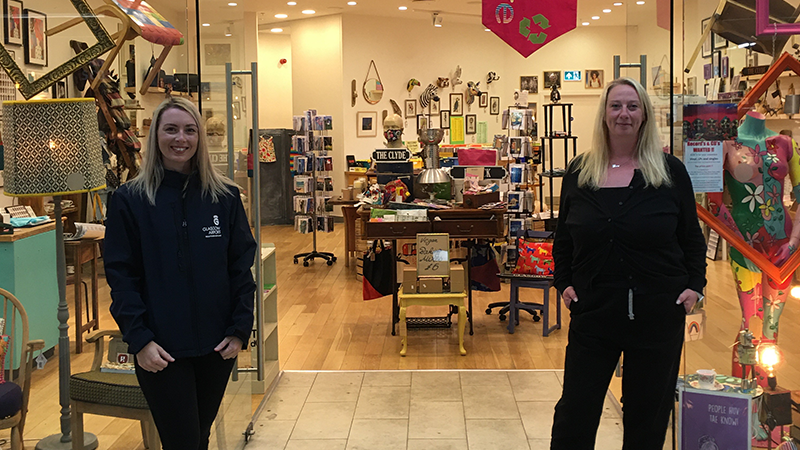 A project between Glasgow Airport and city-based upcycling organization Clydeside Collective will see dozens of old tables and chairs due for disposal transformed.
Furniture from the former Panopolis café in the airport's departure lounge was no longer needed following an ongoing refurbishment.
The airport's sustainability manager Kirsty Webster was determined to ensure the large cache of furniture was put to good use and reached out to Clydeside Collective founder Sara Thomson.
The award-winning Clydeside Collective initiative brings together established and emerging eco-friendly artists who share a passion to reuse, recycle and reclaim any and all items that may have been destined for landfill.
All 13 tables, 20 chairs 16 high stools were picked up by the Collective and artists are currently stripping them back to their basic materials before transforming them into various resalable and one-off items from feature coffee tables to custom-made shelving.
Kirsty Webster said: "AGS Airports Ltd launched its Sustainability Strategy earlier this summer and as a Group we are committed to continuing our policy of diverting 100% of our non-hazardous waste away from landfill and to incorporate circular economy principals where possible to enhance and encourage sustainable development at our airports.
"I reached out to Sara and her team to see if they could make use of the surplus furniture. The Collective's ethos to re-use, recycle and re-sell aligned perfectly with our continued efforts to support the circular economy and we can't wait to see what the eco-friendly artists do with the materials."
It's not the first time Kirsty has managed to find uses for materials no longer needed. Following a rebranding of one of the airport's restaurants, Kirsty arranged for hundreds of surplus plates, bowls, saucers and cutlery to be picked up by the Starter Pack Glasgow. The charity then distributed the crockery sets to new social housing tenants, many of whom had previously been homeless, to get started with household items they may struggle to afford when moving into a new home  
Sara, who started her first collective in Leith two years ago, has recently been named a 'One Step Greener' ambassador ahead of COP26 later this year.
She said: "We are really pleased to be working with Glasgow Airport. It's really encouraging to see the airport take a pro-active approach to ensuring that materials that have so much sustainable value don't just end up in landfill.
"Aside from the obvious environmental benefits, this donation will support the work of a number of eco-friendly artists and help the Clydeside Collective to grow its presence here in the city, so we're really grateful to Kirsty and the team at the airport."
Based in St Enoch's Centre, Clydeside Collective also delivers a business mentorship programme and hosts a range of inspiring events and workshops designed to support the local business community.
To find out more about AGS Airports Ltd's Sustainability Strategy click here.
Fore more about the Clydeside Collective or to get in touch click here.