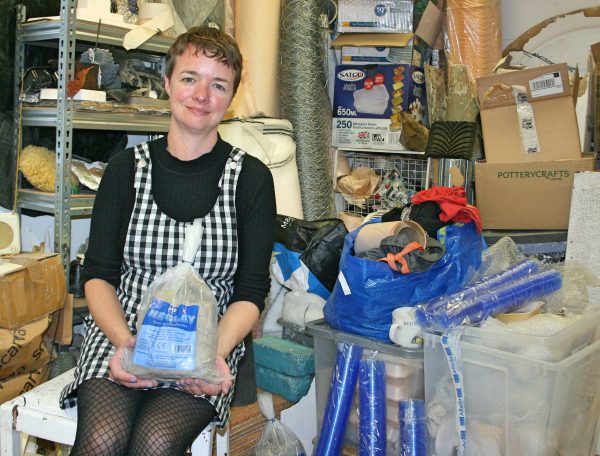 1st September 2020
Today sees the launch of a new service enabling Scottish artists and craft makers to support each other by redistributing everything from paint to plinths.
CAN (Circular Arts Network) is the latest innovative scheme from Glasgow's Sculpture Placement Group (SPG) and has been designed as a way for people in the hard-pressed arts sector to help one another.
The site is described as "a Gumtree for the arts".
It has been welcomed a wide range of individuals and organisations. SCAN (Scottish Contemporary Arts Network) is a founding partner while Zero Waste Scotland, Glasgow Chamber of Commerce and contemporary artist David Batchelor are among its active supporters.
They see it as a sustainable way for people to give away or sell arts materials, equipment, studio furniture and even share transport or exchange skills.
Kate V Robertson, of Sculpture Placement Group, said: "Artists and the arts sector are facing an incredibly tough economic situation right now.
"At the same time we all face the challenge of climate change and the need to make decisive and radical changes to create a sustainable economy.
"Even though we've only just got started there seems to be tremendous support for CAN precisely because it enables the arts community to confront all these issues by giving access to free and affordable materials, as well as skills exchanges and transport sharing.
"So far the signs are very positive so we hope it will grow and grow, and given time we hope to roll it out all across the UK."
SPG wanted to create a dedicated platform for the arts sector in order to promote the principles of a circular economy – one that eliminates waste and encourages the continual use of resources.
It's something especially suited to the arts where a remarkable range of materials can be used in the creative process – Kate herself has previously used car tyre rubber in sculptures.
Laura Blair, Zero Waste Scotland's Sector Manager – Cities & Regions, said: "We need to look at every area of our lives and reduce the volume of materials we use if we are going to address the climate crisis.
"By making full use of the products we have and recognising their value to be reused, we can significantly reduce the carbon associated with manufacturing new items.
"In addition, the Circular Arts Network can help visibly demonstrate the benefits of taking a creative approach with items that may otherwise be tossed aside."
There have also been concerns among artists and makers that when they try to offer up unwanted items at no or low cost on other platforms that they are snapped up by people who then resell them at commercial rates.
David Batchelor, who often uses plastics in his work, believes CAN will help cut down on waste.
He said: "The problem is not so much plastics themselves, they are marvelous materials and in many ways indispensable. The problem is what we do with them when they become waste. If you can use waste plastics and take them out of that cycle then that helps. And to simply not let anything from the studio become waste seems to me is something positive."
Clare Harris, Director of SCAN, added: "Positive and imaginative initiatives like CAN are exactly what are needed in order to support contemporary artists and their work, particularly during this really challenging time.
"We very much hope that this will bring real and direct benefits to the arts sector in Scotland, will contribute to building a more sustainable economy for everyone, and that it can become a UK-wide 'Gumtree for the arts'."
Alison McRae, Senior Director, Glasgow Chamber of Commerce, said: "The Circular Arts Network provides an innovative and creative new way for businesses to engage their local arts community, redistributing materials that are no longer required to artists.
"It is fitting this network launches in Glasgow, which can be argued is the home of design. As the city accelerates its circular economy ambition, this is a valuable way to connect locally supporting the arts, as well as tackling the climate crisis."
---