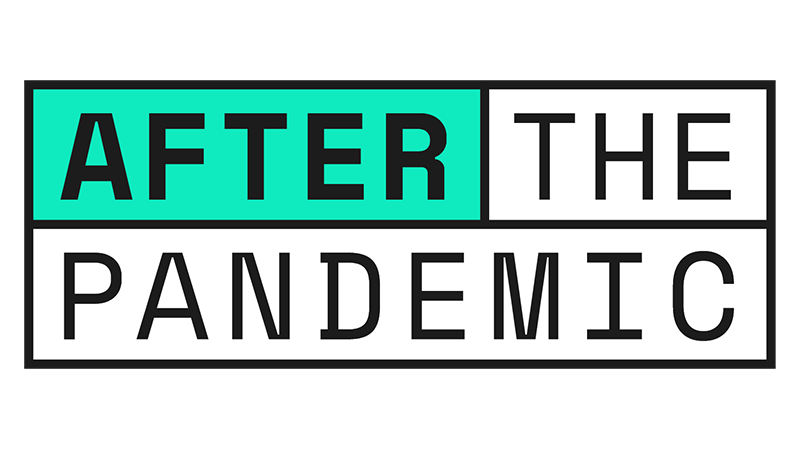 Written by: Laura McHard – Co-founder, After The Pandemic
---
Pollution.
Rising sea levels.
Resilience in an uncertain world.
Transitioning business models towards a circular economy.
Achieving sustainability and circularity in our businesses may, understandably, feel like a daunting or even impossible task. How do we get there? Where do we start? Who has the answers?
Design thinking makes the impossible, possible. A superpower to help us work through the unknown and tackle challenges of any scale. It's both a process and a tool that unlocks innovation to create solutions that can boost businesses without negatively impacting our society and environment.
Design can help organisations create the healthier systems, alternative products and new services needed to move us beyond the "take-make-waste" industrial model towards a more restorative and resilient approach to business, that ultimately results in sustainable long-term growth.
Making this shift isn't easy. Whether it's rethinking your factory's supply chain or creating a workplace of environmentally engaged employees, circular design begins with two things: creativity and collaboration.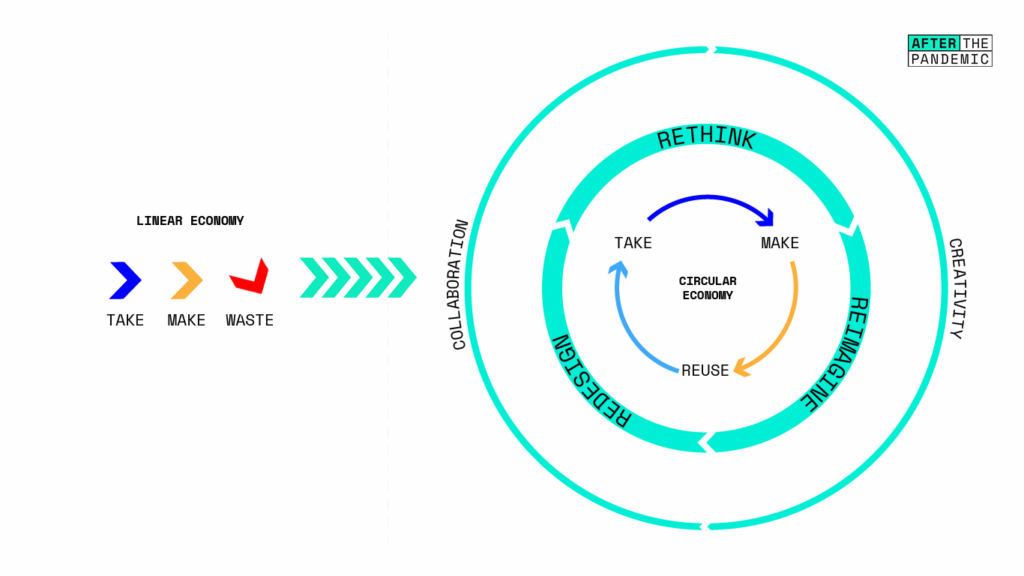 Creativity
Creativity has never been more important. Creative thinking allows us to think beyond limitations, opening our minds to new ideas. Yet, we all lack creative confidence. Brainstorming sessions are often hindered by participants lacking self-belief, reluctant to identify as a "creative type".
But creativity is a process that can be developed and practiced. You were born with an imagination, you just might have forgotten where you put it.
It can start by asking a simple question…
What if?
---
What if…our customers never actually owned our products?
What if…we used food waste to power our restaurants?
What if…we designed a product that increases in value with use?
---
Take Patagonia as an example. The brand is currently piloting a subscription initiative that allows consumers to rent outdoor gear instead of buying it, capping the amount of products they make. That might sound like a huge risk to their bottom line… but it's about generating more money from less and leaning into cheaper, recycled materials that could sustainably scale their business and pivot Patagonia (and their customers) towards tomorrow. These market-defining strategic moves would have never seen the light of day without creative bravery and without someone in a meeting room thinking "What if?".
Glasgow-based fashion company Law Design Studio – a slow-fashion brand – is redefining customer relationships with clothes through the use of 100% natural materials, zero waste made-to-order garments and a rewards system that encourages customers to return used items for repair or resale.
Without questioning the status quo, thinking beyond practical constraints and legacy consumer behaviours, it can be difficult to imagine new solutions like these.
This extends to creating new experiences too. After The Pandemic's "Under The Bridge" project questioned the vast acreage of derelict land in Glasgow to create a temporary theatre without walls, and activating both the city centre and online with performance and street art. The performance helped the audience rethink disused and forgotten spaces to make our city thrive during a national lockdown.
---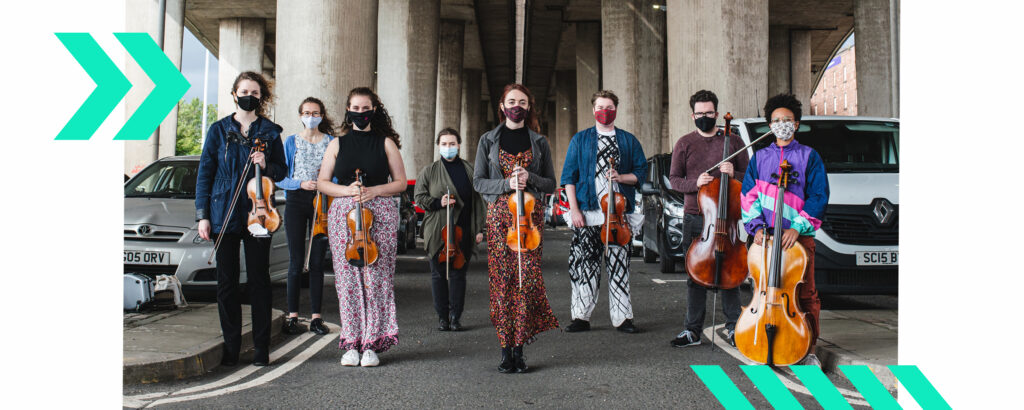 ---
Moving away from growth-at-all-costs economic thinking requires creativity. From new ownership models to innovative services, if we adopt a "What if?" mindset we instantly become more creative and more imaginative. When we question "What if?" new propositions, values and solutions emerge that encourage us to design forward.
---
Collaboration
Design is a team sport.
The most interesting opportunities and ideas surface when different voices, skills and experiences collaborate as a multi-disciplinary, cross-organisational team. Circularity is a collective effort and solutions are strengthened by expertise in numbers.
Take the challenge of e-waste: according to the UN, every person on the planet will produce on average 7.6 kg of electronic waste this year alone. Less than 20% of 57.4 million tonnes of generated waste will be recycled. Dell is tackling this challenge and making strides in material innovation with an unlikely collaboration. Together, with actress Nikki Reed and jeweller Bayou with Love, the computer giant is piloting a recycling programme that turns the precious materials salvaged from old computer parts into new motherboards and 18ct gold rings, cufflinks and earrings.
This partnership is one example of the types of circular ideas and products that can be generated from collaborating across industries (and operating outside your comfort zone). A problem shared really is a problem halved.
Collaboration is a culture that fosters creativity. Last year, After The Pandemic collaborated with Design Weans to launch a Design School. Participants tackled a series of open briefs on the converging challenges brought on by the pandemic and the climate crisis. The solutions were as diverse as the people who worked together on them. When all ages, disciplines and backgrounds collaborate around a shared mission, we can design differently.
---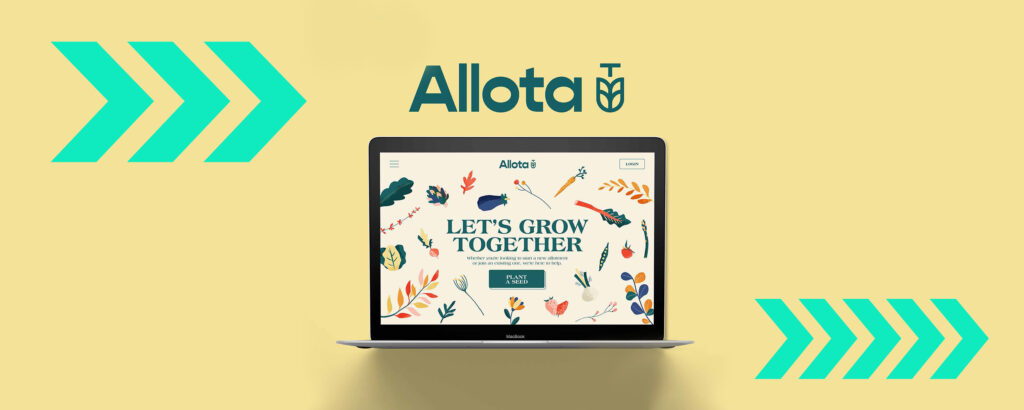 ---
Transparency and trust are crucial in any collaboration and a priority for our latest project, After The Pandemic @ COP26. This COP fringe event will bring together voices from around the world to shine a spotlight on creative climate solutions, stimulating conversation on global challenges at a local level. We are currently co-designing the programme around a set of mutually beneficial principles, allowing global organisations, small businesses, government, local creatives and communities to share knowledge, participate in the climate discussion, and prosper – together.
Collaboration puts people at the heart of any problem solving activity. When we include the excluded, work with our audiences, customers or users, we can achieve more diverse, democratic and dynamic solutions.
---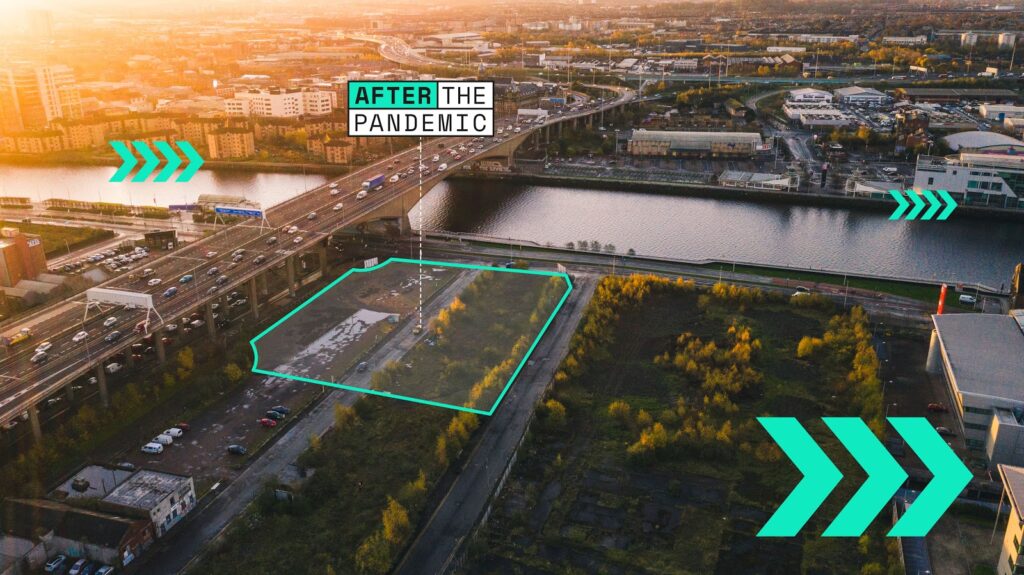 ---
Now is the time to design, innovate and grow sustainably.
Creativity and collaboration are our superpowers for circularity. They help us RETHINK, REIMAGINE and REDESIGN our organisations to be greener, more vibrant and more resilient – closing the loop towards a better future for us all.
---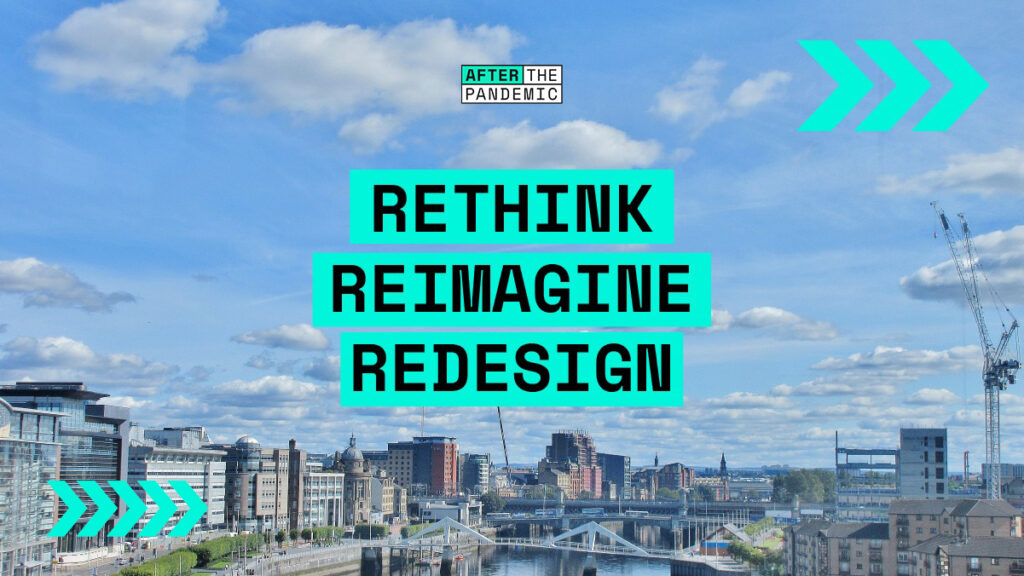 ---
---
---
After The Pandemic is an accelerator for change, incubating and enabling creative projects to RETHINK, REIMAGINE and REDESIGN our society, cities and environment for the better. The initiative develops ideas through the collaboration of local communities, creative practitioners and like-minded organisations in order to create, fund and deliver:
Cultural & arts installations, programmes and content
Educational toolkits, design schools and research.
Events, community engagement and outreach.
We are actively seeking funders and collaborators for COP26. Please get in touch with info@afterthepandemic.scot if you'd like to take part and have your business featured in the event.